Madagascar 3 Europe's Most Wanted (2012) มาดากัสการ์ 3 ข้ามป่าไปซ่าส์ยุโรป
Loading advertisement...
Up next
Phobia (2013) โฟเบีย จิตสยองฆ่าไม่ตาย
Cancel
Madagascar 3 Europe's Most Wanted (2012) มาดากัสการ์ 3 ข้ามป่าไปซ่าส์ยุโรป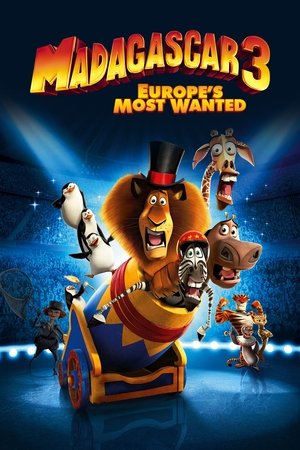 Madagascar 3: Europe's Most Wanted
Overview
Animal pals Alex, Marty, Melman, and Gloria are still trying to make it back to New York's Central Park Zoo. They are forced to take a detour to Europe to find the penguins and chimps who broke the bank at a Monte Carlo casino. When French animal-control officer Capitaine Chantel DuBois picks up their scent, Alex and company are forced to hide out in a traveling circus.
Cast
Ben Stiller

Cedric the Entertainer
Frances McDormand

Sacha Baron Cohen

David Schwimmer
Chris Rock

Jada Pinkett Smith

Jessica Chastain
John DiMaggio
Bryan Cranston

Martin Short

Paz Vega

Frank Welker

Andy Richter
Tom McGrath

Chris Miller

Christopher Knights
Conrad Vernon

Vinnie Jones

Dan O'Connor

Eric Darnell
Crew

Hans Zimmer
Noah Baumbach
Conrad Vernon

Eric Darnell

Eric Darnell
Tom McGrath
Tom McGrath
Junkie XL

Kevin Kaska
Sheila E.
Lorne Balfe

Tiffany Hillkurtz
Aleksey Igudesman

Craig Kellman
Carlos Fernandez Puertolas
Rachel Bolt
Swetha Madhavan

David Hubert

Josh Wood